Product description
Huatai EATV5100 series is a low noise, high performance, high cost-effective EDFA module, which is specially designed for CATV system.
GM is Gain Block Module, without electronic control circuit.
FM is Full function Module which is with electronic control circuit.
EATV5100-FM02 is a full function module, using 70×90×15mm MSA Compact package, with single channel and narrow bandwidth standard version. A standard 6-pin electric connector provides simple electrical connection. The module adopts a high performance cooling pump laser, the output optical power up to 24dBm.
Huatai is a famous manufacture of EDFA. Products with high-performance, high reliability and excellent cost performance, as well as our good service make it to be an ideal choice for OEM system integrators.


Product feature

With Digital Control Electronics ( Full Functiion )

MSA compact package (70×90×15mm)

RS-232 standard communication interface

The output optical power up to 24dBm

Excellent optical performance

Low noise figure, suitable for all kinds of CATV application

Low consumption

Wide range of working temperature

Excellent cost performance

Main application

CATV

FTTx PON

Other single channel optical communication system

Functional diagram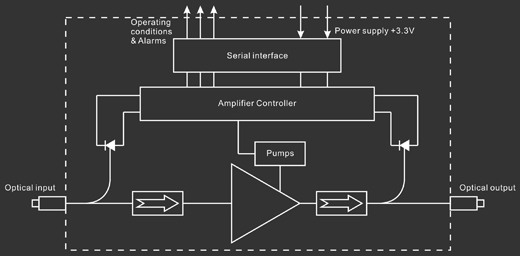 Dimensions