Product description
Huatai EATV5400 series is a low noise, high performance, high power multi-ports EYDFA module, which is specially designed for CATV system. It offers a flexible and low-cost FTTP solution for CATV large area coverage of metropolises and medium-sized cities.
GM is Gain Block Module, without electronic control circuit.
FM is Full function Module which is with electronic control circuit.

EATV5400D series adopts with Pre-amplifier , and the pre-amplifier adopts low noise EDFA, output cascade adopts high power EYDFA. When input optical power Pin=0dBm, the noise figure of unit is: Typ ≤4.5dB, Max ≤5.0dB.
EATV5400S series adopts without Pre-amplifier high power EYDFA. In order to make sure the good noise figure, the input optical power should be >15dBm. distance.
EATV5400x-FM05S is a full function module, adopts industry standard form factor 125×150×30.5mm. Total output power≤37dBm, and output optical ports ≥4 .
.When use this module, customers should add heat sink and forced air –cooling, to ensure high reliability and long life of the module.

Product feature

Industry Standard Form Factor (125×150×30.5mm)

Advanced electronic control circuit

Perfect optic feature

The integrated low-power design

APC, ACC work mode

The standard RS232 communication interface

Low noise figure (Typ≤4.5dB, Max≤5.0dBPin=0dBm, EATV5400D )

EATV5400D (with Pre-amplifier ), EATV5400S (without Pre-amplifier ) optional

Output power adjustable

Total output power 27~37dBm optional

Output optical ports:4~64 optional

Excellent P/P ratio

Main application

AM CATV

Digital CATV

DBS

FTTx PON

Functional diagram

EATV5400D-FM05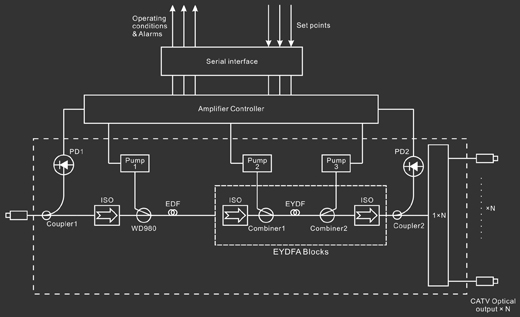 EATV5400S-FM05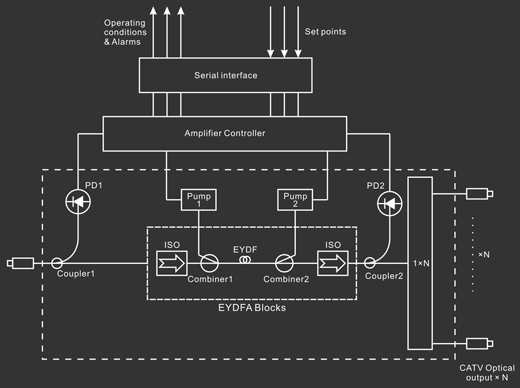 Dimensions