Product description
Huatai HRS-24-H1 product series is a kind of CATV & SAT-IF optical receiver with high-performance and high-index. 7~2400MHz operate bandwidth. Output level Vo=86dBμV ( Pin=-2dBm ), suitable for FTTH, FTTP fiber access network. It is a low power consumption, high performance and excellent cost performance CATV & DBS network ONU(Optical network unit).
This series product adopts high sensitivity receiving tube and special low noise matching circuit. Under 3.8% modulation, when transmitting in full channels and with receiving power of –8dBm, the CNR can still reach high index of 48dB and low inter modulation index. If adopting HRS-24-H1, it is only need very low optical power to reach 48dB CNR required by the user.
HRS-24-H1 optical port mode with following three types optional:
HRS-24-H1/NC:RFTV operating wavelength 1260~1620nm.
HRS-24-H1/WF:Build-in channel filter, RFTV operating wavelength 1550nm.
HRS-24-H1/WD:Build-in CWDM, RFTV operating wavelength 1550nm,pass
wavelength 1310/1490nm, ( Link EPON、GPON ONU ).

Product feature

Extra-low noise ( 3.8% modulate, -8dBm receive, CNR≥48dB )

In high operating wavelength 47~2400MHz, adopting CATV & SAT-IF signal transmitting

Analog TV, Digital TV, SAT-TV, all have excellent features:
Analog TV: ( 59CH PAL-D, 3.8% modulation )
Pin=-10dBm,CNR≥44dB
Pin=0dBm,CTB ≤ -65dB, CSO ≤ -65dB
Digital TV: ( The original signal MER=38.6dBm, BER<1.0E-9 )
Pin=-14dBm, MER≥33dB ( MER deterioration5dB )
Pin=-19dBm, BER<1.0E-9
SAT-TV: ( The original signal =64% )
Pin=-15dBm, signal quality>38%

Large dynamic range of received optical power, high receiving sensitivity :
Analog TV: +2dBm~ -10dBm
Digital TV: +2dBm~ -19dBm
SAT-TV: +2dBm~ -15dBm

Extra-low inter modulation indicators

High output level ( Pin=-2dBm, Vo=86dBμV )

In range of 47~2400MHz, all have good flatness

Metal shell, supply safeguards to opt electrical sensing device

Low power consumption, high cost performance

Main application

FTTH

FTTP, FTTO

Status indicator

Input optical power status indicator : 0~-10dBm Green
>0dBm & <-10dBm Red

Flatness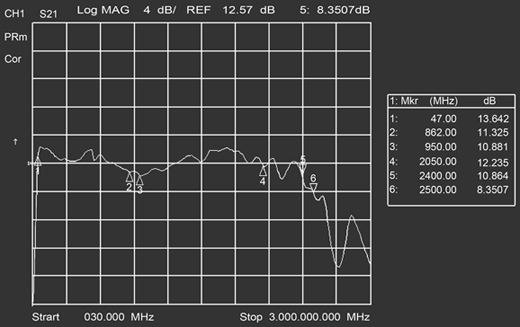 CNR, MER Degradattion table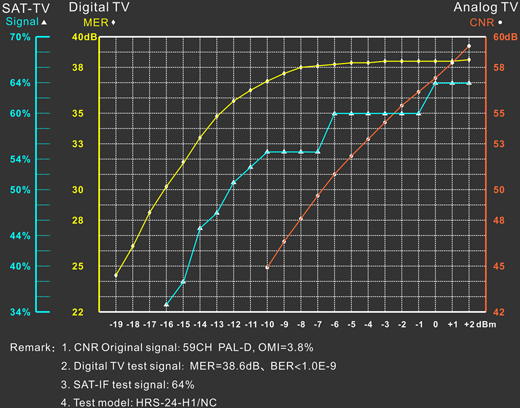 Principle