Product description
RFoG6000 series Return Path Receivers are an integral part of two-way RF access networks, converting upstream optical signals into RF signals at the head-end or remote hubs. 4 or 8 independent receivers are packaged in a 1RU 19-inch rack-mounted unit, serving 256 RFoG optical network terminals (ONTs). A low-noise receiver design improves noise performance by 4dB or more over typical return receivers. Low noise enables DOCSIS 3.0. -32dBm receives sensitivity, allow upstream PON-bound design, such as: supporting 32 splitting way in 20km, 64 splitting way in 10km.
Two versions of the Return Path Receiver are available. Models with front and rear RF ports fit the cabling requirements of both head-end and remote installations. All receivers are temperature-hardened, allowing installation in any network environment including outside plant sites where temperatures are not controlled. SNMP management along with front panel controls complement the features that optimize the Return Path Receiver for head-end and remote installations.

Product features

4 or 8 low noise optical receiver, up to -32dBm receive sensitivity.

Support 256 RFoG micro-node transceiver

Compatible with any technology of FTTx PON: EPON/GEPON, GPON, BPON, DPON

Support DOCSIS 3.0, upstream bounded with PON design

Optical link pre-budget: supporting 32 splitting way in 20km, 64 splitting way in 10km.

Support CW or burst mode operation

1200~1620nm band wavelength

SNMP network management function

RF output level can be adjusted by network

Built-in 1+1 backup power, redundant A/B inputs

Good performance of resistance to temperature, allow -40~+65℃ operating temperature

Simple mode, 19" 1RU mount, contain 4 pcs of independent optical receiver

Excellent P/P ratio

Main application

256 RFoG

FTTx PON

HFC

Test result

Flatness (Test equipment: HP8753D)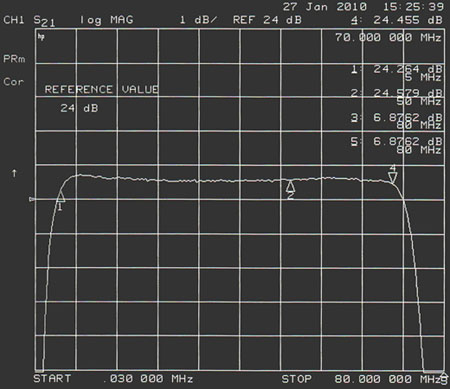 Return loss (Test equipment: HP8753D)