Product description
Huatai VOA500 series assemble multi high-resolution electricity controlled optical attenuators into 1RU or 3D housing, mainly applied to optical adjustment and automatic equilibrium in DWDM system's and multi-channel network and optical amplify network.
VOA500 is a standard type product. Each attenuator with an attenuation value of monitoring. RS232 and RJ45 provide serial communication and SNMP network interface. LCD on the front panel provides every work parameter and fault alarm of the whole unit. All the optical port can install on the front panel or back panel.

Product feature

High efficiency space, 1RU casing can contain16ways optical attenuator.

High resolution, ≤0.1dB

High-accuracy optical input and output power monitor and display.

Attenuation range 20dB, 30dB, 35dB, 40dB, 45dB optional.

Equipment power has three attenuation states to choose from.

Low insertion loss.

Low wavelength dependence loss.

Low polarization dependence loss.

Front panel LCD displays working status and parameters.

Completed RS232 and SNMP.

Excellent P/P ratio in this area.

Main application

DWDM system, power adjustment and automatic equalization in multi-channel.

Power control into narrowband wavelength division multiplexers (WDMs) and configurable networks.

In Lab.

Application Legend
The application of VOA500 used in DWDM system:
1. Multiplexing: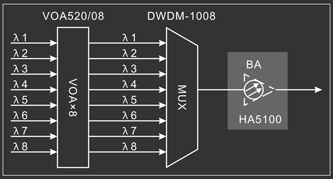 2. Demultiplexing: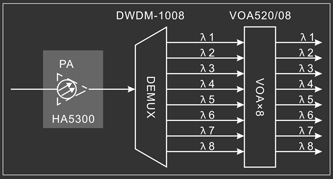 3. Line: