Product description
DWDM series is based on mature thin film filtering technology and adopt metal sealing technology to encapsulate. It has the feature of flat channel bandwidth, flexible channel configuration, low insert loss and high isolation. The flexibility of channel configuration and modularized design make it convenient for system upgrading and expanding. All the Huatai products have no epoxy glue in optical line and can be used in high power optical communication system.
DWDM-0500M: 50GHz (0.4nm) Mux.
DWDM-0500D: 50GHz (0.4nm) Demux.

Product feature

100GHz channel spacing (DWDM-0500)

High channel isolation

Low insertion loss

High stability, high reliability

No epoxy glue in optical line

Compact structure

Main application

Main trunk DWDM system

MAN DWDM system

Laboratory application

C/L-Band: On ITU Grid, H/Q: 50GHz Offset

C/L-Band: On ITU Grid, H/Q: 50GHz Offset
(pdf format, 23K)

Staple C-Band 50GHz DWDM

C-Band 41channels 50GHz Mux/Demux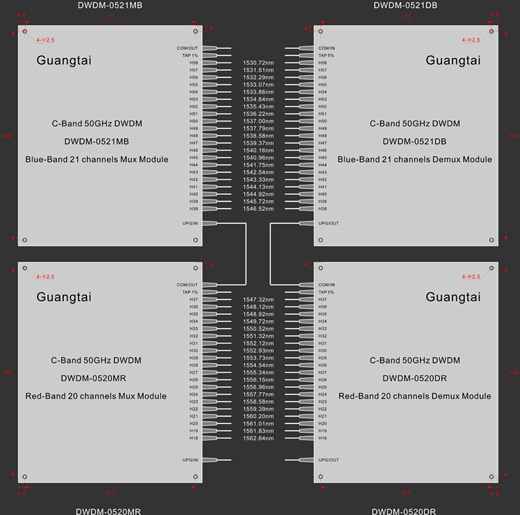 Wavelength configuration: H58~H18
| | | | | | | | |
| --- | --- | --- | --- | --- | --- | --- | --- |
| H58 | 1530.72 | H48 | 1538.58 | H38 | 1546.52 | H28 | 1554.54 |
| H57 | 1531.51 | H47 | 1539.37 | H37 | 1547.32 | H27 | 1555.34 |
| H56 | 1532.29 | H46 | 1540.16 | H36 | 1548.12 | H26 | 1556.15 |
| H55 | 1533.07 | H45 | 1540.96 | H35 | 1548.92 | H25 | 1556.96 |
| H54 | 1533.86 | H44 | 1541.75 | H34 | 1549.72 | H24 | 1557.77 |
| H53 | 1534.64 | H43 | 1542.54 | H33 | 1550.52 | H23 | 1558.58 |
| H52 | 1535.43 | H42 | 1543.33 | H32 | 1551.32 | H22 | 1559.39 |
| H51 | 1536.22 | H41 | 1544.13 | H31 | 1552.12 | H21 | 1560.20 |
| H50 | 1537.00 | H40 | 1544.92 | H30 | 1552.93 | H20 | 1561.03 |
| H49 | 1537.79 | H39 | 1545.72 | H29 | 1553.73 | H19 | 1561.83 |
| | | | | | | H18 | 1562.64 |

L-Band 40channels 50GHz Mux/Demux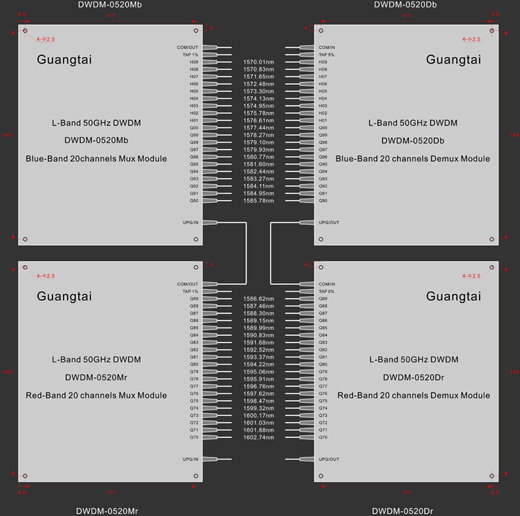 Wavelength configuration: H09~Q70
| | | | | | | | |
| --- | --- | --- | --- | --- | --- | --- | --- |
| H09 | 1570.01 | Q99 | 1578.27 | Q89 | 1586.62 | Q79 | 1595.06 |
| H08 | 1570.83 | Q98 | 1579.10 | Q88 | 1587.46 | Q78 | 1595.91 |
| H07 | 1571.65 | Q97 | 1579.93 | Q87 | 1588.30 | Q77 | 1596.76 |
| H06 | 1572.48 | Q96 | 1580.77 | Q86 | 1589.15 | Q76 | 1597.62 |
| H05 | 1573.30 | Q95 | 1581.60 | Q85 | 1589.99 | Q75 | 1598.47 |
| H04 | 1574.13 | Q94 | 1582.44 | Q84 | 1590.83 | Q74 | 1599.32 |
| H03 | 1574.95 | Q93 | 1583.27 | Q83 | 1591.68 | Q73 | 1600.17 |
| H02 | 1575.78 | Q92 | 1584.11 | Q82 | 1592.52 | Q72 | 1601.03 |
| H01 | 1576.61 | Q91 | 1584.95 | Q81 | 1593.37 | Q71 | 1601.88 |
| H00 | 1577.44 | Q90 | 1585.78 | Q80 | 1594.22 | Q70 | 1602.74 |

C&L-Band 80 (or 81) channels 50GHz Mux/Demux

Wavelength configuration: H58~H18+H09~Q70