Product description
Huatai DWDA-1000 series is integrated by DWDM, VOA and EDFA module in a 1RU or 3D rack. Each channel of DWDM with a high-resolution factor electronic control adjustable optical attenuator will adjust and equilibrium the power. The insertion loss, power loss because of the channel equilibrium of DWDM will be amplified and compensation by the build-in gain flatness EDFA. Compact and simple device structure, thereby reducing the connections between devices to improve the index and reliability of the system. Can be used in DWDM system power equilibrium, optical add and drop multiplexed (OADW) flexible and expediently.
Each of the DWDA-1000 has a optical output power monitor, inspect precision≤±0.1dB. It can be set auto power control mode. According to different network application DWDA-1000 has MU, DE, DM and AD four types optical electric mode and configure relevant EDFA (PA, LA, BA and MSA) available. RS232 and RJ45 provide communicate and network management interface, LCD in front panel provide the working parameter and fault alarm of the whole unit. All of the optical ports can be installed in front panel; also can choose the back panel.
DWDA-1000: 100GHz channel spacing.
DWDA-2000: 200GHz channel spacing (Optional).

Product feature

≤0.1dBhigh resolution voltage-controlled adjustable attenuator.

≥20dB attenuation dynamic range, option≥30dB.

Attenuation value set accuracy≤±0.2dB.

Power value set accuracy≤±0.1dB.

Automatic power controlled (APC) mode can be set.

Based on mature tech of think film>16CH Optional PLC.

100Ghz channel space, optional 200Ghz channel space (DWDA-2000).

Four types of optical line mode, configure relevant PA, BA, LA or MSA, suitable with different network application.

High channel isolation.

Loss insertion loss, low polarization dependence loss.

LCD displays working status and parameters.

Perfect RS232 and SNMP.

High stability, high reliability.

Structure compact.

Excellent P/P ratio.

Main application

DWDM system channel power adjust and equilibrium.

OADM

CATV

FTTx PON

Satellite L-Band fiber link

Lab application

C/L-Band: On ITU Grid, H/Q: 50GHz Offset

C/L-Band: On ITU Grid, H/Q: 50GHz Offset
(pdf format, 23K)

Optical route diagram

DWDA-1000MU-100 (MU+BA)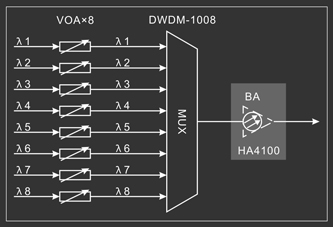 DWDA-1008DE-330 (DE+PA)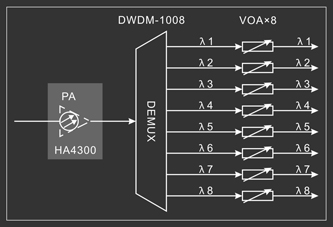 DWDA-1000DM2-200 (DM2+LA)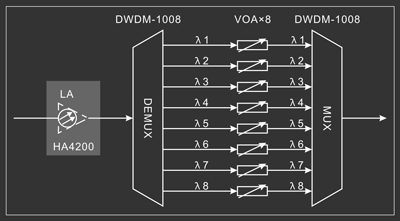 DWDA-1000AD2-200 (AD2+LA)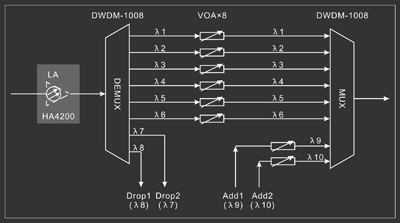 DWDA-1000DM2-700 (DM2+MSA)

DWDA-1000AD2-700 (AD2+MSA)