Product description
The EATV5100-FM05 standard Booster EDFA module provides high power, high reliability, and superior optical performance in an industry standard form factor. This product enables deployment fo flexible, high-density optical networks, while reducing capital and operating applications' requirements. This module is ideal for today's highly dynamic networks and cost sensitive market.
EATV5100-FM05 Full Function Booster EDFA Module adopts Standard Versions for Single Channel and Narrowband. The EDFA includes a cooling pump laser, input monitor and input isolator, output monitor and output isolator, and a reel of optimized erbium-doped fiber. These components are contained within a standard 125×150×22mm package.
A user-friendly 25-pin interface is included to enable the device to communicate with control electronics.

Product feature

Industry Standard Form Factor (125×150×22mm)

Output power up to 27dBm

Internal photodiodes to monitor input and output power

Standard Version for Single-Channel or Narrowband amplification

Low cost

Main application

Long-Hual and Metro Networks

Single-Channel (SDH/SONET) or DWDM networks

Wevelength Add/Drop and optical Cross Connect Power Equalization

Transmitter and Receiver Amplification

Digital CATV

Amplet for long-hual networks

Switch matrix

Power equalization and pre-emphasis

Functional diagram


Dimension

A: No heat radiator.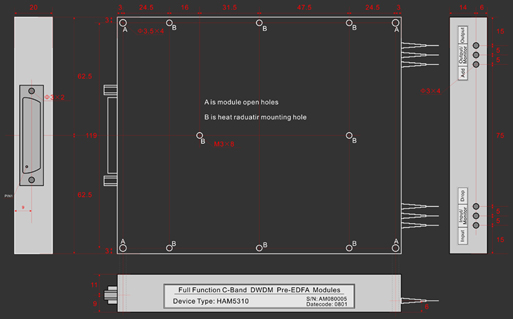 B: Heat radiator.