Product description
Huatai BGL1000 product series, is a low power consumption, high index, with SNMP network management, AGC, full function FTTB optical receiver. 1000 series' shells are aluminum wall hung (without rain-proof), Nixie tube displaying parameters.
BGL1000 series have many kinds of configurations can be optional:
1. Operation bandwidth: BGL1000-086 operation bandwidth 47~862MHz
BGL1000-100 operation bandwidth 47~1050MHz
2. RF output ports:BGL1240, two RF output ports, each 100dBμV
BGL1144, one RF output port, with 104 dBμV
3. SNMP network management can be optional(BGL1000/N), and can achieve
remote control.
4. Built-in CWDM can be optional, multiplex 1310/1490nm data stream
5. Built-in power supply or external power supply can be optional, external power supply
is convenience to repair.

Product features

Excellent AGC performance: Pin:–7.0dBm~+2dBm,ΔVo : ≤±0.5dB

Low noise(3.8% modulation, -8dBm receive, CNR≥46dB)

Output level and slope can continuation adjustment

High level output: one output port 104 dBμV ( AGC,PAD=6dBm ), max output level
110dBμV (PAD=0dBm)
Two output ports 100 dBμV ( AGC,PAD=6dBm ), max output level 106 dBμV (PAD=0dBm)

SNMP network management optional, can achieve remote management and control

Nixie tube displaying all kinds of technical parameters of the overall unit, convenience to
construction and adjustment

Adapts MMIC Amplifier, low power consumption

The industry's most excellent price performance

CNR、MER Degradation Chart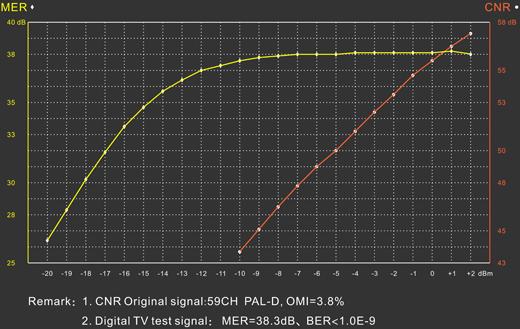 Functional block diagram


Function dispaly and operation

BGL1000 Function dispaly and operation