Product description
Huatai H9925 is a type of bi-directional optical receiver with high performance, low cost and economical. It is applicable to various application of the HFC network fiber to the home (FTTH), and can provide high reliability analogue, digital video frequency and data bi-directional transmission for the HFC network.
H9925S: Single fiber bi-direction, built-in WD1315 CWDM.
H9925D: Dual fiber bi-direction, without CWDM.

Product features

Excellent linearity and flatness

Extremely good return loss

Compact construction, lower power consumption

WDM option to achieve single fiber bi-directional transmission

Multi-communications transmitting wavelength and power optional

Main application

FTTH (HFC)

Block diagram

H9925D (Dual fiber bi-direction, without CWDM)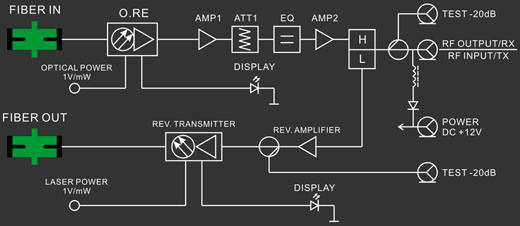 H9925S (Single fiber bi-direction, built-in WD1315 CWDM)