Product description
Huatai WBA4100-FM02 series used 70 x 90 x 15mm MSA compact package, is a digital control circuit of DWDM power amplifier function module. Products using the most excellent optical properties, electronic control technology and complete software function is most advanced, wide wavelength range, low noise, excellent gain flatness characteristics and transient characteristics. Application for C-Band 44 wave or the 88 wave of DWDM system.

WBA4100-FN02 has two kinds of function versions are available:
1. Standard version: provides a fixed gain control mode (FGA), the pump current control mode (ACC)
2. Enhanced version: In addition to the standard version with the control functions, increasing the variable gain control mode (VGA, AGC), Variable output power control mode (VPA, APC).
WBA4100-FN02 enhanced version, for DWDM systems, providing a flexible, high-performance, low-cost networking applications.

Product features

With Digital Control Electronics (Full Function )

Wide working wavelength: 1529.16~1563.86nm

Accord with the communication technology requirements of 44 channels DWDM system

Excellent gain flatness feature (GF<1.0dB)

Excellent Transient feature

Low noise figure.

Standard RS232 communication interface.

MSA compact package (70×90×15mm )

Low power consumption,Wide operating temperature range

Excellent P/P ratio in area.

Main application

44 channels DWDM system

Metropolitan and access networks

Optical Add/Drop and Cross-Connects

FTTx PON

Software Function monitoring and alarm
Function, Monitoring, Alarm

Standard version

Enhanced version

Functions
In-Service Firmware Upgrades

√

√

Auto Shut Down

√

√

Fixed Gain Mode ( FGA )

√

√

Variable Gain Control Mode ( VGA, AGC )

x

√

Variable output power control mode ( VPA, APC )

√

Pump Current Control Mode ( ACC )

√

√

Pump Maximum Working Current limit Protection

√

√

Monitors

Total Input Power

√

√

Total Output Power

√

√

Pump Status

√

√

Moduel Temperature

√

√

Alarms

Loss-of-Signal Alarm

√

√

Moduel Temperature Alarm

√

√

Pump Temperature Alarm

√

√

Pump Bias Alarm

√

√

Opto-electrical diagram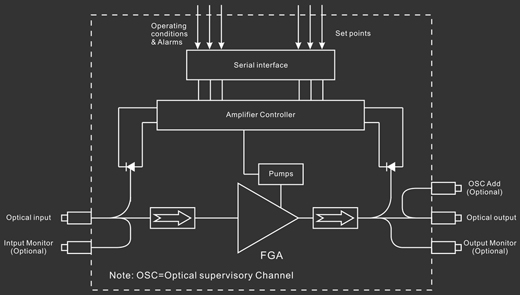 Dimensions