Product description
Huatai Huatai WPA4300-FM02 series with 70 × 90 × 15mm MSA compact package, is a digital control circuit with DWDM full function preamplifier module. Products using the most excellent optical performance, the most advanced electronic control technology and comprehensive software features, has a wide operating wavelength range, low noise, excellent gain flatness characteristics and transient characteristics. Suitable for C-Band 44 or 88 waves DWDM system applications.

WPA4300-FM02 has two kinds of function versions are available:
1. Standard version: provides a fixed gain control mode (FGA), the pump current control mode (ACC)
2. Enhanced version: In addition to the standard version with the control functions, increasing the variable gain control mode (VGA, AGC), Variable output power control mode (VPA, APC).
WPA4300-FM02 enhanced version, for DWDM systems, providing a flexible, high-performance, low-cost networking applications.

Product features

With Digital Control Electronics (Full Function )

Wide working wavelength: 1529.16~1563.86nm

Accord with the communication technology requirements of 44 channels DWDM system

Excellent gain flatness feature (GF<1.0dB)

Excellent Transient feature

Low noise figure.

Standard RS232 communication interface.

MSA compact package (70×90×15mm )

Low power consumption,Wide operating temperature range

Excellent P/P ratio in area.

Main application

44 channels DWDM system

Metropolitan and access networks

Optical Add/Drop and Cross-Connects

FTTx PON

Software Function monitoring and alarm
Function, Monitoring, Alarm

Standard version

Enhanced version

Functions
In-Service Firmware Upgrades

√

√

Auto Shut Down

√

√

Fixed Gain Mode ( FGA )

√

√

Variable Gain Control Mode ( VGA, AGC )

x

√

Variable output power control mode ( VPA, APC )

√

Pump Current Control Mode ( ACC )

√

√

Pump Maximum Working Current limit Protection

√

√

Monitors

Total Input Power

√

√

Total Output Power

√

√

Pump Status

√

√

Moduel Temperature

√

√

Alarms

Loss-of-Signal Alarm

√

√

Moduel Temperature Alarm

√

√

Pump Temperature Alarm

√

√

Pump Bias Alarm

√

√

Opto-electrical diagram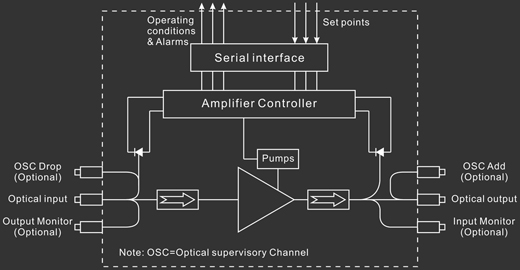 Dimensions